Please order here
This is the first microphone I have ever purchased, I purchased it to use on my android Huawei P20 mobile.
The quality of the Rode is excellent, not only build quality but in the sound as well. And the great thing is it just plugs right into your mobile. I believe some of the late iPhone have no longer got a headphone jack point, but I believe you can buy a special cable for this. I am using this on my smooth 4  gimble and have had to buy a cable to use it, but its not expensive. This shotgun microphone I believe for the money, about 5o€ on Amazon and the cable 7€ or 8€  is excellent value. It also comes with what I am told is called a dead cat, a furry item to cover the mike if its windy.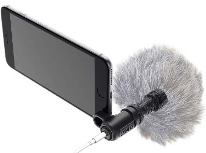 This is the dead cat and microphone connected to the mobile.